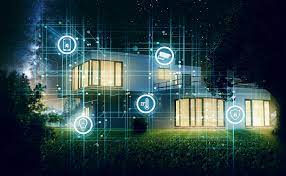 A smart home refers to a convenient home setup where appliances and devices can be automatically controlled remotely from anywhere with an internet connection using a mobile or other networked device. Devices in a smart home are interconnected through the internet, allowing the user to control functions such as security access to the home, temperature, lighting, and a home theater remotely.
A smart home allows homeowners to control appliances, thermostats, lights, and other devices remotely using a smartphone or tablet through an internet connection.
Smart homes can be set up through wireless or hardwired systems.
Smart home technology provides homeowners with convenience and cost savings.

This Smart Appliance Control can be fitted into any old or new regular non-smart appliance like fan/cooler/AC etc.. with ease and can be controlled by mobile app from anywhere. Real time update of temperature/ humidity and light of the room on the app using sensors. It adjusted speed according to temperature and humidity. Timer for switching on and off the appliance. Facility to access any appliance by family members.

Smart Water Tank Management System
Our water tank management system is an asset to every house, which provides hassle free water management. Once installed always check available water in your tank, daily consumption of water, time of supply of water, quality of water, Ph of water and many more as you need on your mobile. Whatever type of water system, number of water tanks you have, we have solution for that. 

This product is most needed for the old persons, whose children are living far away from parents and if parents are living in flats or old person's accommodation. Get general alert and panic alert from anywhere in the world. Save parents/ old persons at the time of crisis. Panic alert is sent to all connected family members and related doctors for immediate response from them.